Professional headhunters do not merely place candidates. They are a different breed of recruiter, identifying and engaging top talent for demanding employers. Delivering elite applicants against challenging briefs requires a specialist workflow, supported by software for headhunters, a solution designed exclusively for the world's top talent hunters.
Headhunters versus "Candidate Placers"
Not all recruiters are headhunters. They're all talent-matching professionals, working to help their clients find and hire great talent for their teams.
They all track their applicants through an ATS or CRM system (they are not the same).
However, what they do – and how they do it – is often misunderstood.
But, in many ways, that's where the similarities end.
Although headhunters and moe candidate-driven recruiters tend to be bucketed together professionally, there are big differences in the work they do. The difference also lies in the recruiting software they need to deliver winning results.
The steps they follow, the tools they use and the way they track and share their work with colleagues and clients have little in common, with contrasting objectives and diverging customer expectations.

Client-driven vs candidate-driven
Recruitment is often a mix of 'client-driven' and 'candidate-driven'.
On some occasions, recruiters may be working directly with a candidate – a professional actively ready to switch jobs or move on to their next career challenge.
In a process known as 'candidate-driven' recruitment, recruiters will engage their network of hiring managers and well-matched companies. They will look for new opportunities on behalf of the candidate, representing them in their job search.
On other occasions, recruiters work to fill client vacancies, searching a mix of internal and online databases but with the aim of finding the best candidate there is.
Headhunters, by contrast, are purely client-driven.
Their assignments involve searching, identifying and engaging the market's top-performing professionals. These are also often based on extremely in-depth criteria and a detailed briefing from their client.
In the large majority of cases, job boards or internal CRM platforms that contain only a fraction of the market's potential applicants (and only a tiny portion of the available data on each one) are of little use.
More challenging still is the need for headhunters to project manage their search assignments. They often use a strict tracking methodology to measure progress and share regular updates with the client.
Different model, different tech
From a recruiting software perspective, the needs of a recruiter and a professional headhunter are entirely different.
Headhunters don't need an 'applicant tracking system', or ATS. They rarely deal with web applications and they don't need recruiting software primarily designed for managing volume.
They don't process timesheets and support contract worker needs. And they don't need a CRM platform to help them connect job-seekers with open client vacancies.
Instead, headhunters need software to support their work in two key areas:
– Research
Headhunters rely heavily on data and research to help them map professional markets, and identify the right people with the unique skill sets their clients are seeking. They then look to engage them to encourage them to join their clients' organizations.
Traditional recruiting software systems do not easily give a detailed insight into candidate profiles. It often requires collating data from dozens of sources.
Headhunting research also means diving beneath the surface of traditional applicant profiles (such as LinkedIn profiles). It also involves understanding nuanced business experience, client relationships and specialist expertise.
– Project Management
Search projects can involve conversations with anything from a handful to potentially dozens of candidates as part of the initial longlist. The client receives the final selection of top profiles only after headhunters wrap up this preliminary work.
And once determined, reviewing the shortlist and choosing leading applicants for the initial interview is often a collaborative process between headhunter and client.
Clients may have comments on specific profiles, helping shape the headhunter's ongoing search efforts. Or they may have questions on applicant backgrounds and skill sets that require clarification before proceeding to interview.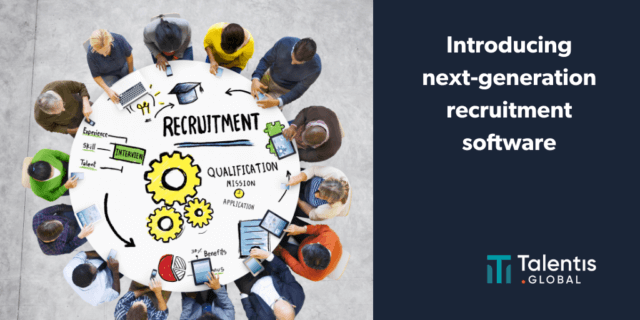 Next-generation software for headhunters
Talentis is a new breed of recruiting software designed purely for headhunters and executive recruiters.
Breaking with the tradition of ATS and CRM platforms built for traditional recruiters, it's a purpose-made system that was envisaged with a focus on executive search.
Revolutionary AI and big data technology fuel the Talentis platform. These enable headhunters to leverage the power of internet-based data to improve and accelerate research projects, while also facilitating the management of the executive search itself.
In contrast with many recruiting software solutions that focus on helping recruiters search their own internal data and log high volumes of recruitment activity, Talentis was built to give headhunters a pro-active advantage throughout the lifecycle of their projects. It enables researchers to conduct better, faster and more detailed searches. It also uses advanced AI techniques to automate clunky manual processes across the board.
Research with Talentis
Independent headhunting agencies using traditional recruiting software start every assignment with one hand tied behind their back, in comparison to large global executive search firms.
For instance, the biggest players in the market have access to vast proprietary databases. These contain millions of candidates and highly-organized research teams manage them.
With executive search being a discipline that requires both accuracy and speed, it's a tough break for independent agencies to have to compete against such established rivals, who can start every new assignment by searching their own huge data resources and quickly get ahead of the pack.
With Talentis, however, headhunters have access to tens of millions of people and company profiles from the outset. There's no empty database to populate, no 'start from cold' approach to each and every project.
How is this achieved?
Talentis is constructed around a huge global index of candidate, client and company data. It is consolidated in a single console that gives headhunters the tools to quickly kick off new projects without lag.
A range of public sources including company websites, social media profiles and more provide information which gives headhunters and research teams the ability to cross-reference data from multiple platforms. And they can also use information from one source platform to dig into other key search areas on another.
Supercharging this is the technology's in-built AI, which makes pro-active suggestions and recommendations throughout the search process, such as flagging similar candidate profiles from other companies against short-listed applicants, or guiding headhunters to competitor lists to help them rapidly map out new market spaces.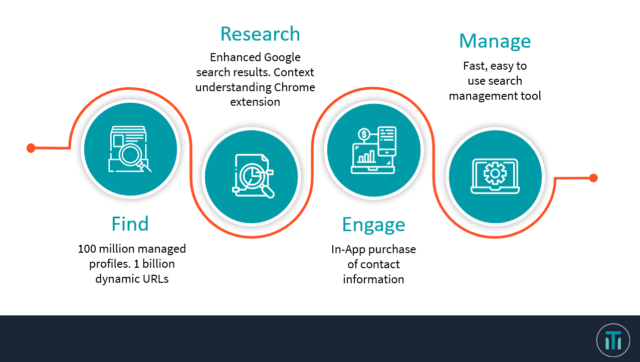 Project Management with Talentis
The Talentis platform also re-approaches the project management aspect of executive search workflows, helping headhunters stay organized and save time.
Key to this is the Chrome extension which accompanies the user through all of their online research. Furthermore, it augments on-page information with additional data on the company, candidate or client profile being viewed.
As the Talentis team puts it, "the internet is your CRM".
This approach is at the core of the Talentis platform, and helps bring all of the thousands of fragmented data points that exist across sites, profiles and online bios into a single, intuitive tool built ground-up for headhunting research.
Through adopting this user-focused approach to designing software for headhunters, Talentis turns traditional CRM and ATS functionality upside-down. It begins with the user experience and supplies vital time-saving data instantly at all critical workflows steps.
The impact?
No more switching platforms or toggling hundreds of open browser tabs. Or hours lost to manually collating data and hand-written notes to form a complete profile picture.
The result?
Better searches delivered faster, more placements, and also more satisfied clients.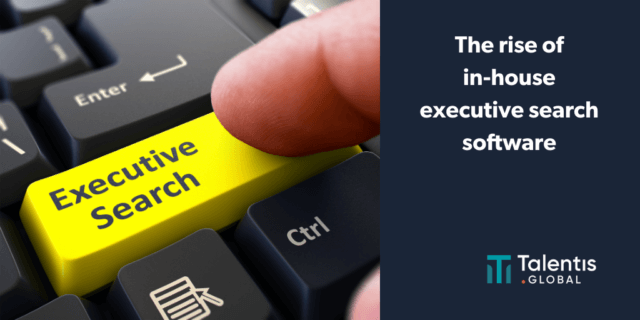 The team behind the best software for headhunters
Here on the Talentis team, we've worked with the headhunting and executive search industries for decades as part of Ikiru People.
We're the makers of GatedTalent and FileFinder, and we know the sector inside-out.
We've watched first-hand – during hundreds of hours of research – how top-achieving headhunters work, and what they need from their software.
The Talentis platform is certainly the true 'next-generation' technology. Instead of re-heating the traditional CRM model with some new shiny features, we've gone back to the starting point and built a custom solution with executive search as its core focus.
Every aspect of the platform – from interface design to detailed search and project management capabilities – has been fine-tuned to boost headhunter and researcher performance. Additionally, it creates a game-changing competitive advantage for users.
Although we're not new to the headhunting space, Talentis is.
To sum up, there's nothing like it out there.
And we want executive search firms to try it in full and experience its potential.
That's why we're offering free trials (completely, no strings attached) and a highly cost-effective launch offer to help headhunting firms experience the future.
To get started, book a demo, join a webinar or sign up today.