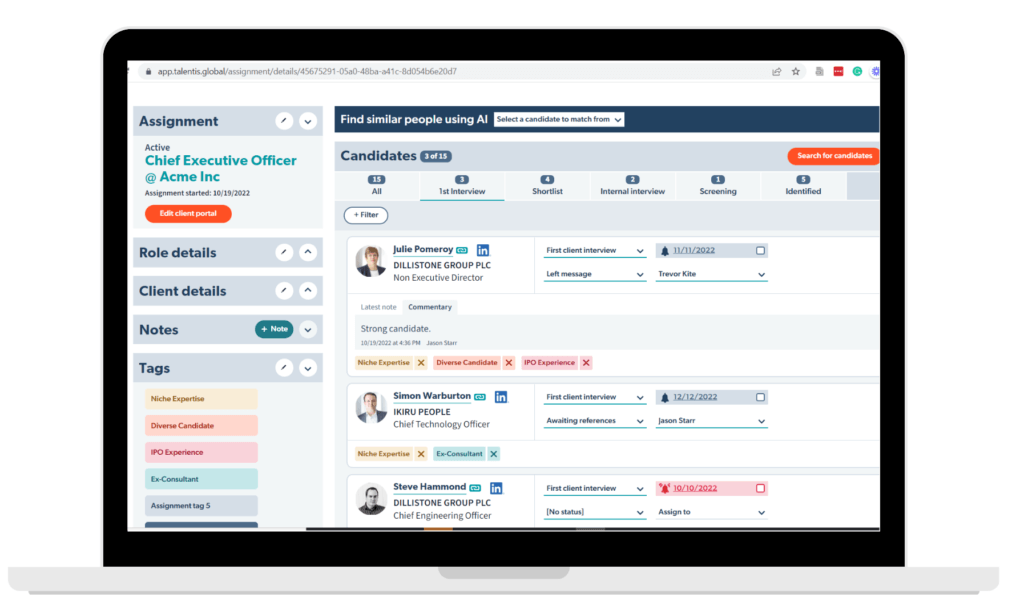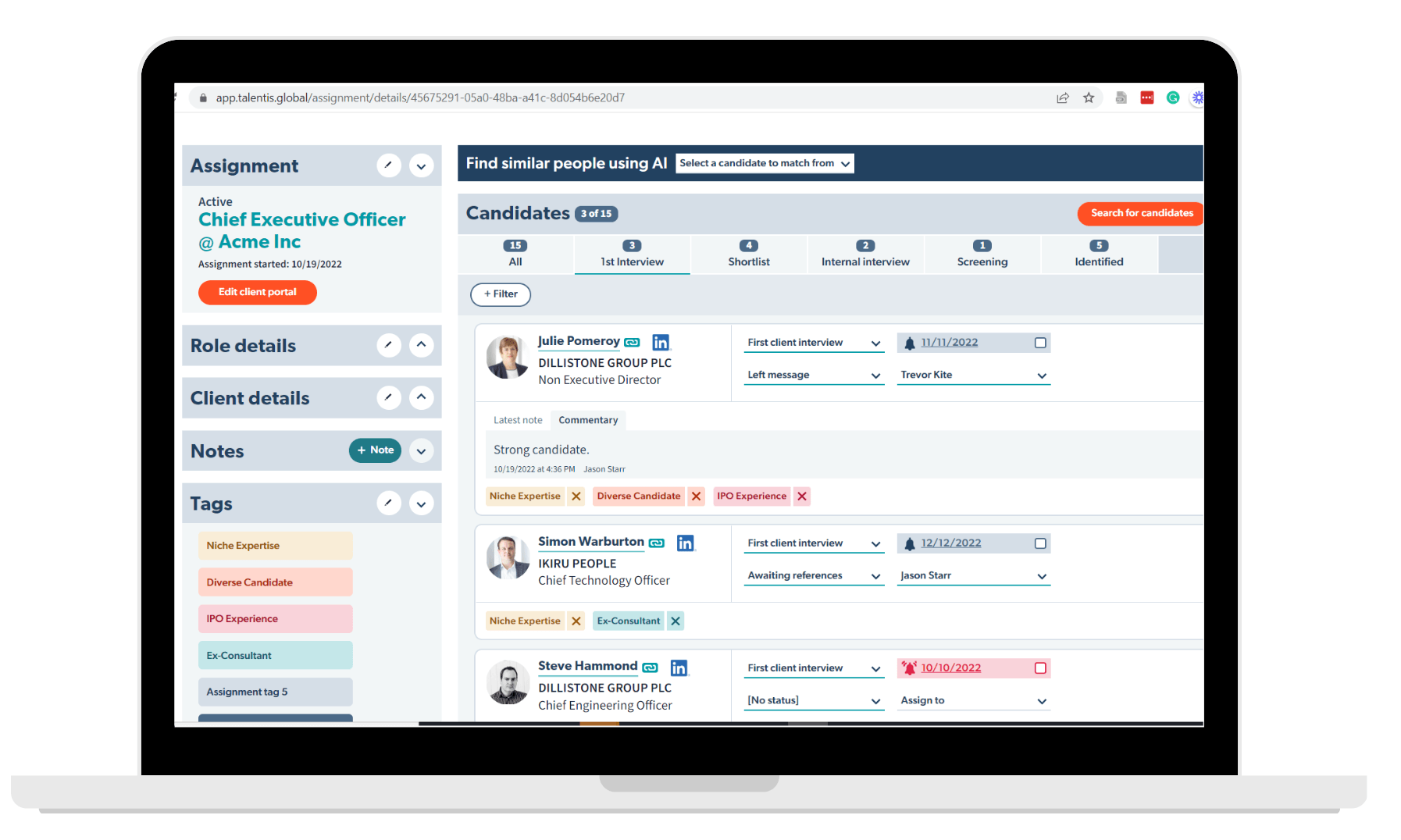 In-house recruiting? Why an ATS is not always the solution
Most hires made by most organizations are based on filling open positions with active candidates. As a result, recruiting technology is designed to reflect the traditional applicant driven workflow – hence the term "Applicant tracking system."
However – the reality is that many strategic hires are not filled by active candidates. The new CEO is unlikely to be applying for jobs – generally speaking. As a result, a workflow based on managing applications is not likely to work in these cases.
It's all about the passive candidate!
As a result, more and more in-house talent acquisition teams are turning to hiring approaches associated with retained executive search firms – headhunting – and, as a result, more and more talent acquisition teams are seeing the need for specialist teams for in-house executive recruiting.
Generally speaking, these teams sit alongside the broader recruiting teams. Proactive headhunting requires different skills, different processes and – yes, different technology – to the type of process associated with volume hiring.
Think about a graduate entry position, for example. Automation is a significant part of the portion of the legwork that supports this process. Jobs boards put up job notices. Circulate. Candidates complete online application forms and, from this point, applicant tracking systems (ATS) help manage the evaluation process.
And while this tech works well for junior and mid-level roles, executive search for management and leadership positions is a different challenge altogether.
When it comes to attracting senior talent – ads don't cut it. Senior executives rarely apply for jobs – recruiters must approach them.
Bringing executive search in-house
Most organizations accept that external recruiters need to handle some hires. For instance, an internal headhunter is less likely to handle specialist roles or board roles.
However, a significant portion of businesses are now establishing their own in-house recruiting executive search divisions. These are specifically tasked with engaging and onboarding world-class candidates from other (often competitor) organizations.
Experienced ex-search firm executive recruiters often head these teams. They can easily map talent and also approach high-performing professionals to discuss career opportunities.
Internal recruitment teams depend largely on technology to help them attract, filter and manage volumes of applicant data. However, executive recruiters need support in the nuanced workflows specific to talent hunting.
Where the ATS fails, the CRM steps in
Applicant Tracking Systems are one of the bedrock technologies of internal recruitment.
Designed to manage complex candidate cycles and structure sometimes vast quantities of applicant data, they are a must-have for busy internal teams. These teams seek to fill large numbers of company vacancies and share candidate pipeline information with different stakeholder groups.
As distinct from recruiters managing an active inflow of interested potential employees, executive recruiters build their work around pro-active attempts to identify talent and headhunt leading professionals to join their organization.
Executive search teams require purpose-made software that solves an entirely different set of challenges. This software should supercharge their ability to zero in on perfect profiles and to store and structure market research. Additionally, this kind of in-house executive search software should also manage and nurture relationships.
The future of in-house executive search software
The Talentis executive search platform specifically supports the process of executive search. It certainly marks a break with the interim solution of forcing executive recruiters to use ill-suiting ATS platforms.
Built around an AI and big data foundation, Talentis has next-generation software capabilities. It allows executive search recruiters to find candidates, run cross-platform searches, map markets and document their search processes from inside a single system.
In comparison with an ATS platform – primarily designed for tracking candidate engagement and application processes – Talentis works to pro-actively boost the pace, precision and management of complex executive search projects.
Underpinning Talentis is an engine which puts CRM information alongside detailed profiles of executives. This helps avoid clunky traditional search workflows that tie up hours of productive time in outdated manual processes.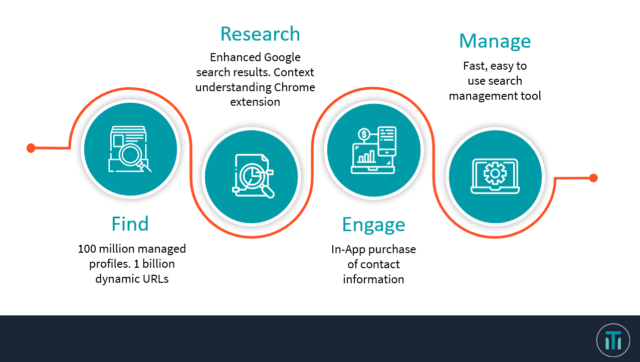 Executive search: research
There's a reason companies have been so slow to bring executive search for senior roles in-house, in the way they did with core recruitment.
That reason?
Data.
Executive search firms have access to vast private databases and candidate libraries with millions of records.
For companies considering filling their own senior vacancies themselves, it's daunting to know that they start the process with little to no information. In contrast, specialist search firms sit on huge data stores that they can search and filter to find top talent. Of course, firms all have access to LinkedIn – and LinkedIn Recruiter licences – but LinkedIn is not exhaustive.
Talentis changes the game on in-house research. It incorporates a pre-populated database of millions of company and professional profiles. These are all sourced from publicly-available as well as executively-maintained data, and packaged together in a unified search console.
Levelling the playing field between agency and in-house, this data equips in-house recruiting teams to run powerful searches instantly.
In practice, this means the ability to quickly access information on the most senior or potential candidates, while simultaneously accessing internal "relationship type" information from the CRM.
As well as connecting data sources in this way, the platform also uses powerful AI to pro-actively suggest similar profiles that a recruiter is viewing.
An in-house executive recruiter reviewing a Chief Marketing Officer profile from Company A, for example, maybe offered profiles from Companies B and C, based on corporate and individual profile data that suggests a high match in roles.
Executive search: passive talent
The key challenge facing any executive recruiter is engagement of passive talent.
Candidates happily and successfully employed, who need to be approached correctly to initiate discussions around a potential career move.
In most workflows, this kicks off with identifying profiles.
Traditionally, recruiters and executive search teams have started out by accessing a variety of silo-ed information platforms. They've looked into everything from third-party CV and resume libraries to premier professional networking sites such as LinkedIn.
And, while each of these information sources has selling points, there are frustrating gaps that slow down and confuse the path of an executive recruiter on a mission to fill a key role.
LinkedIn, for instance, despite its impressive global membership of 500m+ users, creates an even playing field for talent-hunters of all types.
In-house recruiting – beyond LinkedIn Recruiter
An in-house executive search specialist seeking to gain the edge and secure the top talent for their organization begins their LinkedIn search with the same data, tools and access as any other recruiter with a paid license.
On top of this lack of competitive edge, LinkedIn's data is also limited. True, it's the most comprehensive professional 'map' of the global marketplace built to date. But it includes only a small portion of the available information that can potentially be included on company and candidate profiles.
Talentis is the world's first in-house executive search software to close this gap, indexing hundreds of millions of sources to pull together corporate and professional data in a single tool.
Leveraging the full capability of internet data in this way creates huge benefits for executive search specialists. It includes AI-augmented searches that cut hours from the traditional process.
By connecting big data and Artificial Intelligence in this way, Talentis revolutionizes the way in-house recruiters structure their work, conduct searches and deliver results for their leadership teams.
Getting started with our in-house executive search software
The team that built Talentis has decades of experience in the executive search space. We've worked with top-achieving agencies and in-house teams to understand how technology can enhance productivity and results.
We've studied the top executive recruiters in action, learning their tips, tricks and tech frustrations. And the Talentis platform is the ultimate result. We're proud to unveil the first in-house executive search software that is truly bespoke for elite headhunters.
But, despite our deep roots in the space, Talentis is new.
A new product, and a new concept – and new things need time to bed in.
We're offering every in-house recruiting team the opportunity to evaluated Talentis with a free trial for a week.
No commitments, no credit card sign-ups – just a chance to use the market's first AI-driven executive search solution. Explore the powerful features next-gen technology brings and see how it supports – not hinders – the process of strategic talent acquisition.
Interested?
Book a demo or watch a webinar before starting a free trial.